Buller Block: PEP 50279

Comet Ridge's very large Petroleum Exploration Permit PEP 50279 is located in the West Coast coal region of New Zealand's South Island, covering an area of 4,802 km2. PEP 50279 was awarded in 2008, and Comet Ridge has a 100% interest in the permit. The permit is located north east of the town of Greymouth and its nearby coal mines, and is immediately north of Comet Ridge's 170 km2 Mining Permit PMP 50100.

Comet Ridge is currently focusing on coal seam gas exploration in PEP 50279 in the following areas:
Paparoa and Brunner coals near the boundary with PMP 50100 in the south west;
Brunner coal measures near Reefton in the centre of the permit.
The recent strategic expansion of the PEP 50279 acreage near Runanga, announced in July 2011, allows Comet Ridge to focus on fully appraising the coal measures across PMP 50100 and southern PEP 50279 as a single resource.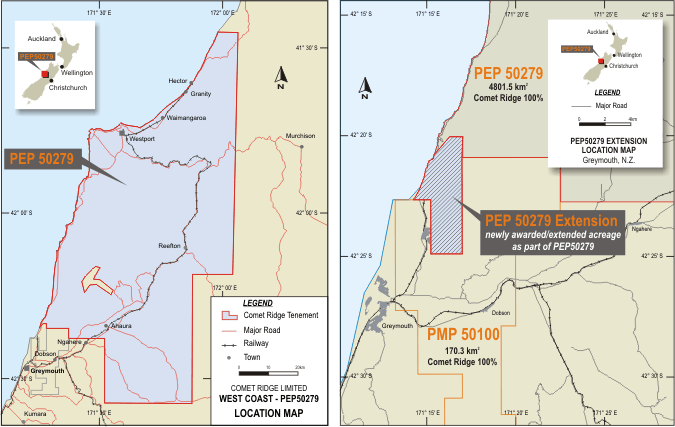 The gassy Paparoa coal measures have been identified in the south west corner of PEP 50279, and extend across most of PMP 50100 to the south. The Paparoa coals underlie the Brunner coal measures, both of which are mined in a number of places on the Westcoast. Several coal mines are located in the north of PMP 50100 and the south of PEP 50279, with coal mining activities within the extension area to the PEP 50279 exploration permit being particularly intensive.

To the north east, the Reefton area has hosted many open cut and underground coal mines over the past century, which targeted the Brunner coal measures.

Four CSG wells have been drilled in the Reefton area. Three wells were drilled in 2004, RSE-1, RSE-2 and Reef-2, targeting the Brunner coal measures at depth of less than 250m. All three wells intersected 15m of coal or greater and were plugged and abandoned.

The most recent well was Painkiller Creek-1, drilled by Comet Ridge in March 2009. This was the first exploration well drilled by Comet Ridge in PEP 50279. This well was drilled down-dip from the Reefton coalfields, but the Brunner coal measures in this area were not developed.

The challenges associated with delineating the extent of the many coal measures in New Zealand has lead Comet Ridge to adopt airborne survey technology to assist in identifying exploration targets. In early 2010, an Airborne Magnetic survey was conducted and then in early 2011 an Airborne Gravity Gradiometry (AGG) survey was acquired over parts of PEP 50279, including the extension area, and also over PMP 50100.

The AGG survey system was developed in the coal industry to discover new coal deposits and to help outline known coal resources with greater accuracy.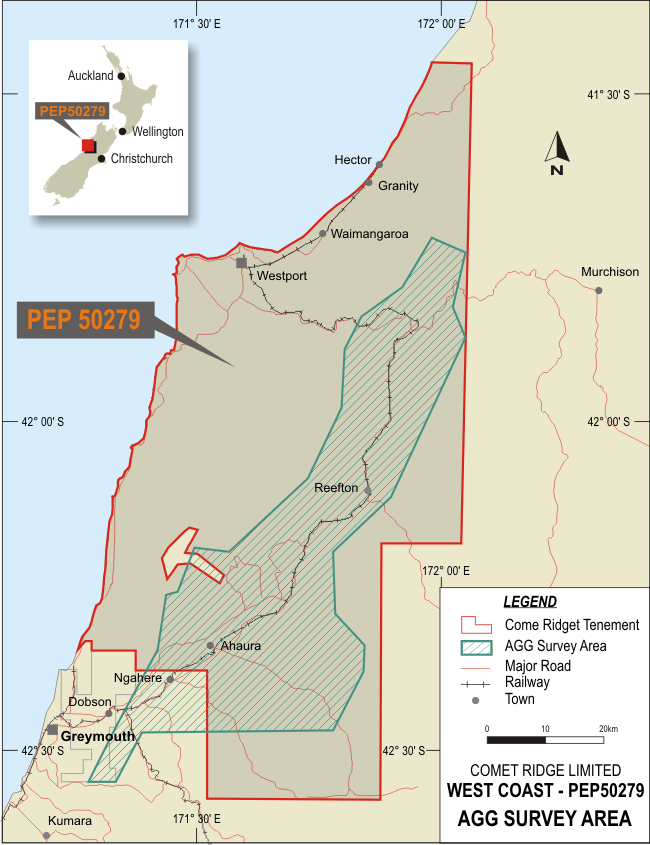 External consultant, FrOGTech is combining the data acquired in the AGG survey, the 2010 Airborne Magnetic, Gradiometric and Radiometric survey, and the extensive well data (coal mining and CSG) in the area to generate detailed geological mapping of the area. In addition, NSAI are also assessing the CSG resources across PMP 50100 and the southern margins of PEP 50279.

Comet Ridge intends to combine the insights derived from both the FrOGTech and NSAI studies to develop the optimal appraisal plan for the area. These studies will provide valuable information on the location of the highest value CSG targets within Comet Ridge's permit areas.

Comet Ridge is planning a well drilling programme on the West Coast in late 2011 or early 2012.

Back to Top