North Waikato: PEP 50280

Comet Ridge's Petroleum Exploration Permit PEP 50280 is located in the North Waikato coal region of New Zealand's North Island, covering an area of 3,667 km2. PEP 50280 was awarded in 2008, and Comet Ridge has a 100% interest in the permit. The permit is located north and east of the town of Huntly, with its nearby coal mines and the Solid Energy coal seam gas pilot project.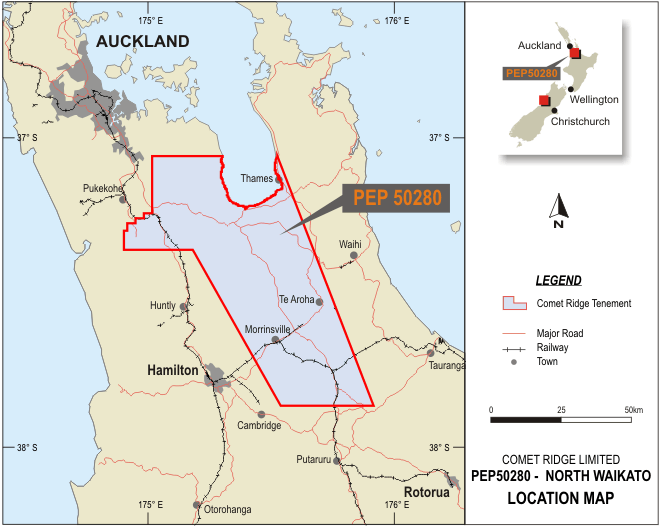 The Waikato coal region is host to 13 coalfields, and is responsible for New Zealand's largest volumes of produced coal. Current mining activities are dominated by state owned Solid Energy and centre on the Huntly area and include both underground and open-cut operations. Solid Energy also operates the Huntly CSG Pilot targeting the same coal measures as Comet Ridge 12km to the north.

Three wells have been drilled to date within PEP 50280, targeting the Waikato Coal Measures. The first two were drilled in 2005, prior to Comet Ridge involvement, to test the Kupakupa coal seam. These wells were drilled to total depths of 385m and 352m and both intersected approximately 8.5m of the Kupakupa coal seam at depths between 300m and 370m. Both wells were tested and abandoned, with gas desorption testing yielding low results, although questions around the methodology of the testing has resulted in the understanding of the gas content being inconclusive.

Comet Ridge drilled the Matata-1C coal seam gas well in 2009. The CSG core hole was also designed to core and test the Kupakupa Seam within the Waikato Coal Measures. Drilled with 500-800m offset from NW-1a & NW-2, Matata-1C was spud on 16 February 2009 and drilled to a TD of 472m. Only a thin section of Waikato Coal Measures were intersected was intersected (418m) before basement was tagged at 462m. Minor coals were present. Matata-1C was abandoned on the 28th of February 2009.

Within PEP 38605 (south west from PEP 50280) Solid Energy has set up a CSG pilot, testing the Kupakupa and Renown coal seams within the Waikato Coal Measures. The pilot is located near Beverland Road, roughly 12 km from our permit boundary, and includes, but is not limited to the Ruawaro-1, Ruawaro-2, Rotongaro-1, Mangapiko-1, and Ohinewai-3 wells. It is understood that some of these wells have been fracture stimulated, and that pilot production is set to begin Q4 2011.

The challenges associated with delineating the extent of the many coal measures in New Zealand has lead Comet Ridge to adopt airborne survey technology to assist in identifying exploration targets. In early 2010, an Airborne Magnetic survey was conducted and then in early 2011 an Airborne Gravity Gradiometry (AGG) survey was acquired over parts of PEP 50280. This was part of an airborne surveying programme which also included Comet Ridge's coal seam gas permits PEP 50279 and PMP 50100 on the West Coast of the South Island.

The AGG survey system was developed in the coal industry to discover new coal deposits and to help outline known coal resources with greater accuracy.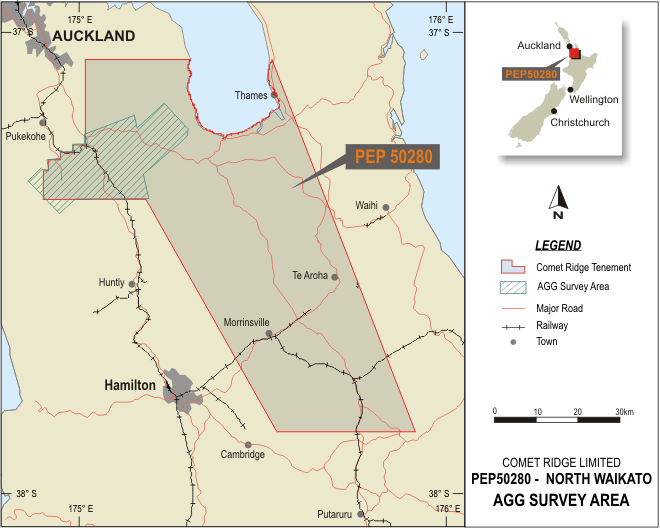 External consultant, FrOGTech is combining the data acquired in the AGG survey, the 2010 Airborne Magnetic, Gradiometric and Radiometric survey, and the extensive well data (coal mining and CSG) in the area to generate detailed geological mapping of the area.

Comet Ridge intends to use the insights derived from the FrOGTech studies to develop the optimal appraisal plan for the area. These studies will provide valuable information on the location of the highest value CSG targets within Comet Ridge's permit areas.

Drilling of the first CSG targets identified by the airborne survey projects in PEP 50280 is expected to begin in early 2012.

Back to Top