Comet Ridge has interests in four coal seam gas assets in Queensland, with ATP 337P Mahalo located in the Bowen Basin and three assets located in the Galilee Basin.




*Subject to a 3 Phase farm-in where Comet Ridge can earn up to 75% interest

In July 2012, Comet Ridge commenced a 12-well drilling programme at ATP 337P Mahalo, including two pilot projects. Comet Ridge has a 35% interest in ATP 337P Mahalo after it sold a 5% interest to Stanwell Corporation in late 2011. Comet Ridge's expenditure commitments under this drilling programme are to be carried by Stanwell up to A$8 million.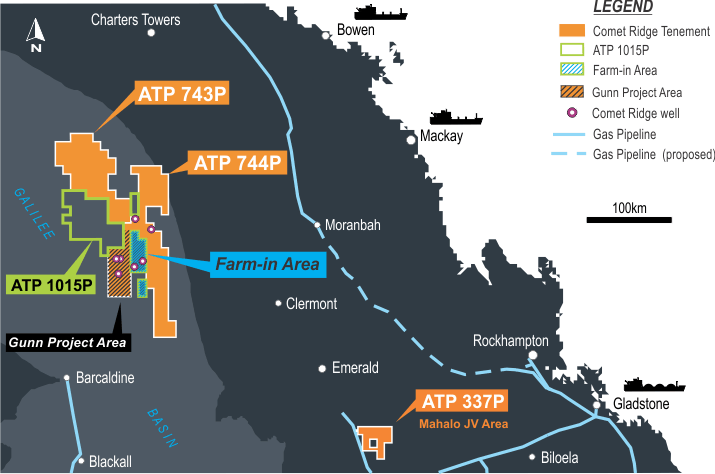 Comet Ridge has a 100% interest in two adjacent permits on the eastern flank of Queensland's Galilee Basin, ATP 743P and ATP 744P. These permits have a combined area of 12,991 sq km, and are sparsely explored to date. The drilling of the Hergenrother 1 and Gunn1 wells in the south west of ATP 744P in early 2010 identified an area of favourable coal thickness and gas content, which is referred to as the Gunn Project Area.

In mid-2012, Comet Ridge signed a three-stage farm-in agreement to earn up to 75% of the Lake Galilee Farm-in Area, located between the east and west parts of Comet Ridge's ATP 744P. The Farm-in expands the Gunn Project Area to the east, allowing it to be appraised as a single project. Comet Ridge expects to drill two wells to complete the first stage of the farm-in by the end of 2012, and earn an initial 20% interest in the asset.

Contingent Resource Certification:

In late 2010, Comet Ridge announced that NSAI had completed a Resource Certification for each of the Gunn Project Area (ATP 744P), and for ATP 337P Mahalo.





The current work programme focused on maturing Contingent Resources into certified Reserves at both projects during 2013.

Back to Top